Holy Image, Holy Ground...in L.A.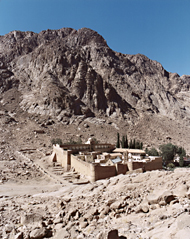 This Getty Center exhibit of sacred art from St. Catharine's monastery in Egypt almost makes a trip to L.A. seem worthwhile:
"From a remote monastery in the Sinai desert of Egypt, they are coming. Fifty-two precious icons and liturgical objects, many of which have never left their home in Sinai, are on their way to Los Angeles for a once-in-a-lifetime exhibition at the Getty Center. From a remarkably vivid sixth-century portrait of Saint Peter, founder of the Christian church, to richly painted sanctuary doors, a bishop's stole, even a bronze crucifix used in worship, the objects are sacred and beautiful..."